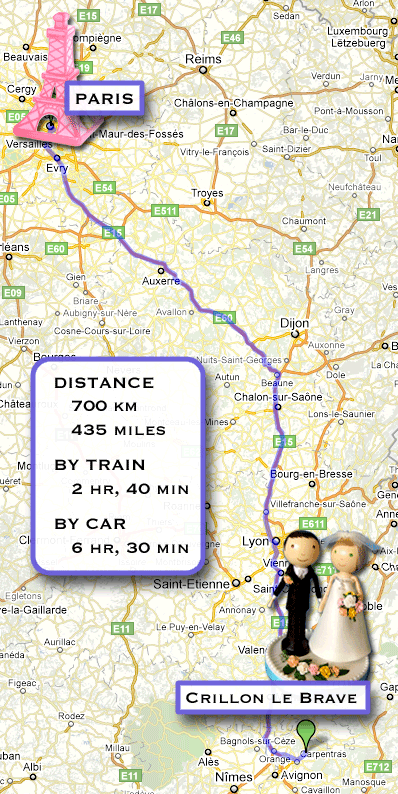 Getting to the Hôtel Crillon le Brave
Crillon le Brave is a small hilltop village located about 25 miles northeast of Avignon in the heart of Provence.
By Plane
The Paris—Charles—de—Gaulle airport is France's largest international airport. Guests can also fly into Marseille, which is located in the south of France, approximately 75 miles from the hotel.
By Rail
The Avignon TGV station is the closest train station to the hotel. The SNCF (France's national railway company) offers high—speed trains from both Paris—Charles—de—Gaulle airport as well as Paris' Gare de Lyon several times a day. You can view schedules for both locations and purchase tickets at: http://www.raileurope.com/index.html.

There are taxis at the Avignon TGV train station that can bring you to the hotel.

Please note that we will be organizing a bus to take guests from the Avignon train station to the hotel on Friday, October 21. Details to follow.
By Car
You can rent a car anywhere. It's certainly more adventurous than taking the train. Detailed driving instructions from the main A7 (coming from the North, or from Avignon and the South) are available at: http://www.crillonlebrave.com/location.htm
Weather
Autumns are usually mild and boast plenty of sunny weather. The weather is often still pleasant enough for visitors to enjoy a swim in the Mediterranean.

Average temperatures in October:


Highs of 21°C / 70°F
Lows of 11°C / 52°F
Hotel Reservations
Please contact either Brittany or Joshua at your earliest convenience if you have not already made a room reservation. You can check out the hotel's website at http://www.crillonlebrave.com/
Hotel Suggestions in Paris
The city of Paris is divided into 20 arrondissements. The 20 arrondissements are arranged in the form of a clockwise spiral, starting in the middle of the city.


1st and 2nd Arrondissements (Right Bank, Musée du Louvre, Concorde, Tuileries)

Hotel Thérèse (contemporary classic) — http://www.hoteltherese.com/hotel—paris.html
Hotel du Louvre (traditional) — http://www.hoteldulouvre.com/en/
Grand Hotel du Palais Royal (traditional) — http://www.hotel—paris—palaisroyal.com/


3rd & 4th Arrondissements (Right Bank, Le Marais, Place des Vosges, Musée Picasso)

Hotel Duo (economy) — http://www.duo—paris.com/
Hotel Bourg Tibourg (economy) — http://www.bourgtibourg.com/
Hotel du Petit Moulin (modern) — http://www.paris—hotel—petitmoulin.com/
Le Pavillon de la Reine (traditional elegance) — http://www.pavillon—de—la—reine.com/


6th Arrondissement (Left Bank, Saint—Germain—des—Prés, Luxembourg Gardens):

Hotel Michelet Odeon (economy) — http://www.hotelmicheletodeon.com/
Hotel Recamier (traditional) — http://www.hotelrecamier.com
Le Relais Christine (traditional elegance) — http://www.relais—christine.com/
L'Hotel (contemporary classic) — http://www.l—hotel.com

7th Arrondissement (Left Bank, Musée d'Orsay, Eiffel Tower):

Hotel le Bellechasse (modern) — http://www.lebellechasse.com/
Hotel Pont Royal (contemporary classic) — http://www.hotel—pont—royal.com/
Duquesne Eiffel Hotel (traditional) — http://www.duquesneeiffel.com/

8th Arrondissement (Right Bank, Champs—Élysées, Arc de Triomphe):

Hotel de Sers (modern) — http://www.hoteldesers.com/
Hotel de l'Arcade Madeleine — http://www.hotel—arcade.com/uk/index.php
Le Pavillon des Lettres — http://www.pavillondeslettres.com/uk/index.php
Hotel de Vigny — http://www.hoteldevigny.com/